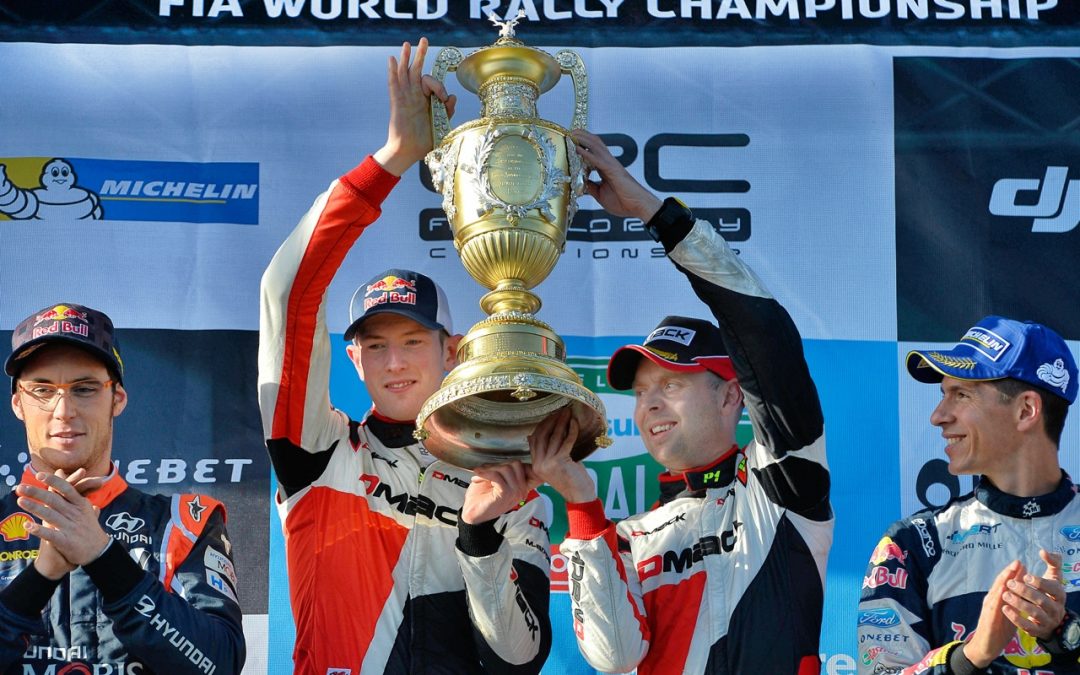 Record-Breaking Crowds Celebrate Historic Home Success On Dayinsure Wales Rally Gb
Elfyn Evans capped a spectacularly successful Dayinsure Wales Rally GB this weekend (26-29 October), becoming the first British driver to win on home soil in the FIA World Rally Championship since 2000.
Under sunny skies and in front of more than 100,000 spectators lining the classic Welsh forest stages, the new generation of World Rally Cars caused a stir everywhere they went, from the opening salvo at Tir Prince Raceway to the finishing podium in Llandudno.
Sébastien Ogier set the pace on Thursday evening, maintaining his supremacy on an event that he won four times in succession from 2013 to 2016. To the delight of the partisan crowds, however, Evans seized control as soon as the action moved into the forests the following morning and it was an advantage that he would never relinquish.
Overcoming not only the threat posed by his rivals but also characteristically challenging weather conditions including dense fog on Saturday evening, the Dolgellau driver made the most of the DMACK tyres on his M-Sport run Ford Fiesta WRC. Expertly navigated by Lancashire-based co-driver Daniel Barritt, he sprinted clear of his pursuers and ultimately reached the finish line at the end of Sunday's Brenig Power Stage some 37.3 seconds ahead of his nearest competitor.
In so doing, Evans joined British rallying legends Roger Clark, Colin McRae and Richard Burns as only the fourth homegrown driver ever to triumph on the event, and the 28-year-old is the first Welsh driver to win any WRC rally.
"It feels pretty good, to be honest!" acknowledged Evans, whose father Gwyndaf lifted the British Rally Championship laurels back in 1996. "It's been a long weekend – I feel like I could sleep for a week now! With Seb winning the Drivers' title and the team the Manufacturers' championship, it's been a very special day.
"I've been very lucky to have a lot of support, not just from my family but also from a close network of people and obviously M-Sport, and to see everybody there waiting and cheering for us at the end of the Power Stage was an incredible feeling – I don't think Llyn Brenig has ever been so busy!
"Following the Shakedown, we knew that if the conditions played in our favour, the speed was there to compete for victory, but you can never second-guess anything on this rally. You need to have a clean run with no problems, punctures, spins or mistakes. That's often very difficult to achieve, but it's exactly what we did and everything came together beautifully.
"After Thierry [Neuville] denied me in Argentina [where Evans was pipped to the win by 0.7 seconds], I was determined that nobody was going to get in my way this time. I like this feeling and now I want to experience it more often!"
Behind Evans, a titanic tussle raged for the runner-up spoils, involving all three of the Drivers' title protagonists heading into the weekend. Going into the Brenig Power Stage – and the bonus points it offered – a mere 13.5 seconds blanketed second place back to sixth, and it took a determined effort from Hyundai's Thierry Neuville to eventually secure the runner-up spot.
The Belgian pushed harder and harder as the rally progressed as he endeavoured to keep his fading title hopes alive, but it was ultimately not quite enough as third place for Ogier and two hard-earned Power Stage points proved sufficient for the Frenchman to clinch a fifth consecutive Drivers' World Championship crown.
"It's fair to say the wave of emotion I experienced at the end of the Power Stage was the strongest I've ever felt in rallying," he reflected. "It's difficult to explain. We took a gamble at the end of last year, and it feels so good to see it pay off.
"I'm so proud of the whole team and so happy for Malcolm [Wilson – M-Sport Team Principal] and all the guys. They thoroughly deserve this success after so many years. What they have been able to achieve on a smaller budget than the manufacturers is outstanding.
"This has been the most competitive WRC season I've ever known, which is great for the sport and the new cars are the most fun I've ever driven – incredibly fast and enjoyable. We had to fight really hard all year and this weekend was no different, but I must say that Elfyn did an amazing job. Yes, he had the right tyres, but especially here in Wales – where you encounter some of the most difficult conditions in the WRC – it's never easy and he didn't put a foot wrong. Big congratulations to him!"
Andreas Mikkelsen came on increasingly strong in the latter stages of the rally to pinch fourth from Toyota's Jari-Matti Latvala by the narrow margin of just half-a-second. Ott Tänak's sixth place ensured further British success, in guaranteeing M-Sport the Manufacturers' as well as the Drivers' World Championship titles – plus, of course, Evans' rally win.
Ulsterman Kris Meeke wound up seventh in his Citroën C3, ahead of Hyundai's Hayden Paddon, Esapekka Lappi (Toyota) and Dani Sordo (Hyundai), who completed the final top ten.
Tom Cave took third in the WRC2 support class behind the wheel of his Ford Fiesta R5, with recently-crowned FIA ERC Junior U27 Champion Chris Ingram piloting his Network Q-backed Vauxhall ADAM to class victory and the honour of best-placed front-wheel drive car.
"What a weekend!" enthused Dayinsure Wales Rally GB Managing Director, Ben Taylor. "We've had an amazing few days which have delivered everything we could possibly have asked for. Huge crowds, fabulous weather, close competition and the best possible result. "I think half of Wales was on the stages today to see Elfyn win his first WRC event and to lift that famous trophy on home soil must be very special. Congratulations to Malcolm Wilson and everyone at M-Sport, Sébastien and Julien [Ingrassia], and of course Elfyn and Dan – it's been an amazing weekend.
"I also need to thank everyone that has put in such a lot of hard work to make it all possible. We have a magnificent army of more than 2,000 volunteers and marshals who give up something like 5,000 days this week alone to put the stages together and to keep the fans and the crews safe. Once again they've done a tremendous job and should all be very proud of what the UK has delivered for the WRC."
Next year's Dayinsure Wales Rally GB will take place on the earlier date of 4-7 October, 2018
2017 Dayinsure Wales Rally GB Final Result
Elfyn Evans (GBR)/Daniel Barritt (GBR) – Ford Fiesta WRC 2h 57m 00.6s
Thierry Neuville (BEL)/Nicolas Gilsoul (BEL) – Hyundai i20 Coupe WRC +37.3s
Sébastien Ogier (FRA)/Julien Ingrassia (FRA) – Ford Fiesta WRC +45.2s
Andreas Mikkelsen (NOR)/Anders Jaeger (NOR) – Hyundai i20 Coupe WRC +49.8s
Jari-Matti Latvala (FIN)/Miikka Anttila (FIN) – Toyota Yaris WRC +50.3s
Ott Tänak (EST)/Martin Järveoja (EST) – Ford Fiesta WRC +1m 02.3s
Kris Meeke (GBR)/Paul Nagle (IRE) – Citroën C3 WRC +1m 20.5s
Hayden Paddon (NZL)/Sebastian Marshall (GBR) – Hyundai i20 Coupe WRC +2m 16.3s
Esapekka Lappi (FIN)/Janne Ferm (FIN) – Toyota Yaris WRC +2m 46.5s
Dani Sordo (ESP)/Marc Martí (ESP) – Hyundai i20 Coupe WRC +3m 50.5s
2017 FIA World Rally Championship Drivers' Standings (after 12/13 rounds)
Sébastien Ogier (FRA) M-Sport World Rally Team 215 points
Thierry Neuville (BEL) Hyundai Motorsport 183 points
Ott Tänak (EST) M-Sport World Rally Team 169 points
Jari-Matti Latvala (FIN) Toyota GAZOO Racing WRT 136 points
Elfyn Evans (GBR) M-Sport World Rally Team 118 points
Dani Sordo (ESP) Hyundai Motorsport 95 points
Juho Hänninen (FIN) Toyota GAZOO Racing WRT 71 points
Kris Meeke (GBR) Citroën Total Abu Dhabi WRT 70 points
Craig Breen (IRL) Citroën Total Abu Dhabi WRT 64 points
Hayden Paddon (NZL) Hyundai Motorsport 59 points
2017 FIA World Rally Championship Manufacturers' Standings (after 12/13 rounds)
M-Sport World Rally Team 398 points
Hyundai Motorsport 305 points
Toyota GAZOO Racing WRT 241 points
Citroën Total Abu Dhabi WRT 210 points
*All subject to the official publication of results by the FIA