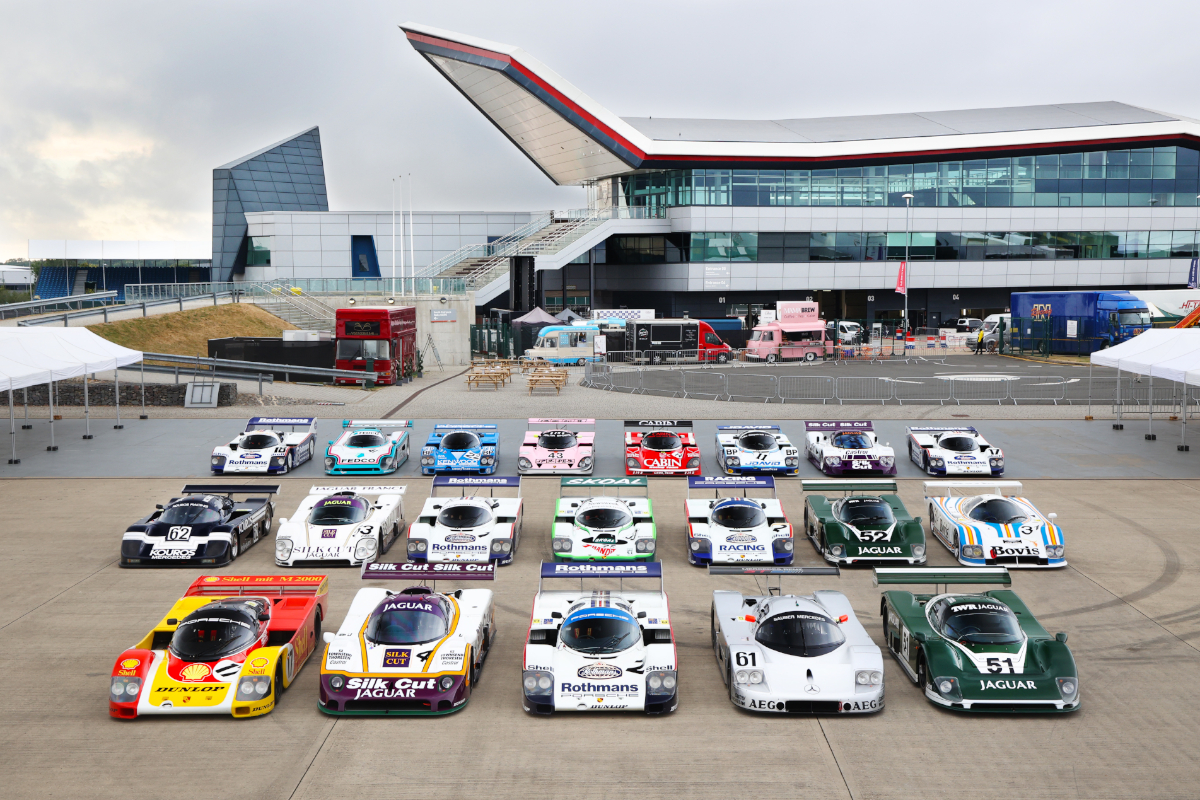 PROJECT
40th anniversary of Group C
CLIENT
The Classic
BRIEF
To source as many Group C cars from across the marques to celebrate the 40th anniversary of Group C racing.
We not only sourced the cars, but helped manage the transportation (which was  spread across five different companies), display, driver interviews and photo shoots as well as the on track displays across the weekend.
This was voted one of the "top moments" of the weekend.
PROJECT
World Rally Champions display including the 20th Anniversary of Richard Burns and 25th +1 Anniversary of Colin McRae winning the World Rally Championship
CLIENT
Salon Prive
BRIEF
To curate three very special anniversaries to celebrate World Rally Champions, Richard Burns and Colin McRae. Ten cars in total outside the Glasshouse.
20 World Rally Champions' cars as rallied in period.
PROJECT
30th anniversary of the Jaguar Intercontinental Challenge
CLIENT
Silverstone Classic
BRIEF
This was a longer term project carried out over two to three years requiring extensive investigations to source Jaguar XJR-15s.
The plan was to bring the cars home and reunite them at Silverstone where they raced in 1991. The whereabouts of the Fangio car, which won the race, was until 6 months prior to this event unknown. The new owners ensured the car was present at the event, where they were joined by the Walkinshaw family, friends, owners and drivers.
PROJECT
60th anniversary of the Jaguar E-type
CLIENT
London Classic Car Show
BRIEF
To form one of the main central features at the London Classic Car Show, we proposed to create a timeline of E-type Jaguars from the earliest to one of the last.
The timeline was to include one of each series and model with the central two team cars from Tommy Sopwith being re-united for only the second time in 60 years.
PROJECT
Colin McRae 25th Anniversary
CLIENT
Prodrive / McRae
BRIEF
Having been approached by owners of Colin McRae rally cars, we were asked to create an event to celebrate his 1995 World Championship success.
We sourced over 40 cars making it the largest gathering ever. But the pandemic of 2020/21 meant we were never able to be together, so we created a website to showcase his success, a dedicated Facebook page to share memories and worked with WRC and Prodrive to create a week of online events.
PROJECT
70th Anniversary of Porsche
CLIENT
Porsche / PCGB
BRIEF
To assemble and showcase Porsche's racing history from the earliest 356 to the latest 919 Hybrid that broke the Nurburgring record and include the original Porsche 917 Salzberg.
Over 40 cars were assembled in the paddock of Brands Hatch celebrating Porsche rich history, including the 935, 956, 962, 911 SCRS, 911 GT1 to name a few.