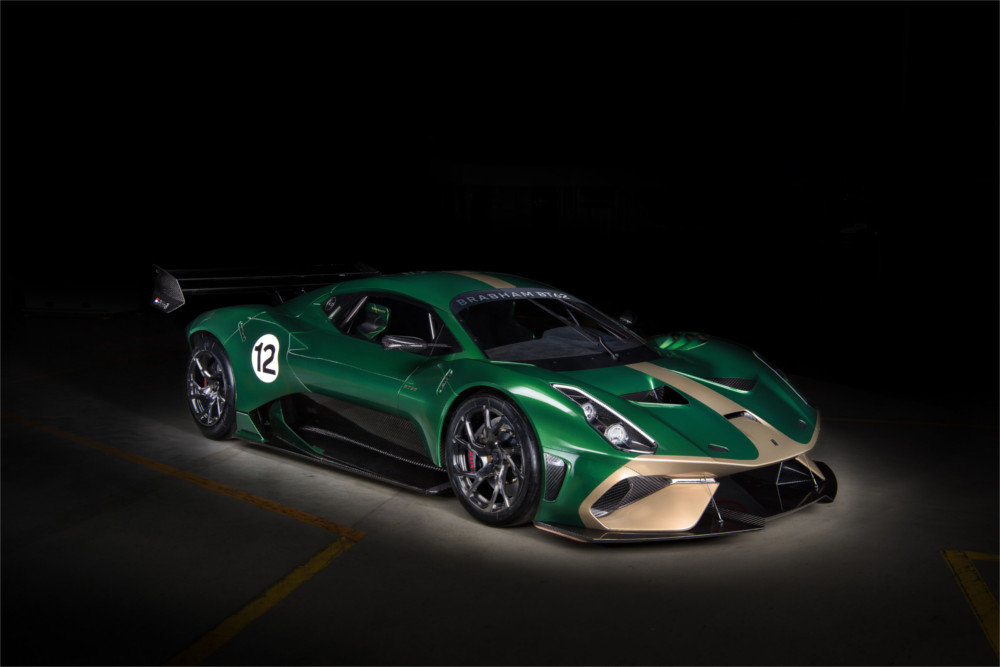 Brabham Is Back With The BT62
Building on a remarkable 70-year racing pedigree, David Brabham has announced Brabham's return to manufacturing at a gala event in central London, with the global launch of Brabham Automotive's first product, the stunning BT62.
The Brabham BT62 continues the legendary 'BT' naming convention established by founders Jack Brabham and Ron Tauranac in the 1960s and honours the legacy of the marque's greatest and most memorable cars.
With headline figures that point to the potency of the car, the new Brabham is pure-bred for the track and capable of setting blistering lap times. The BT62 boasts a power-to-weight ratio of 730ps per tonne, a dry weight of just 972kg and is powered by a Brabham naturally-aspirated 5.4 litre capacity V8 engine.
Heralding the start of an exciting new chapter for the iconic marque, the BT62 has been specifically designed, developed and tested to reward like no other. Designed from the ground-up and featuring a host of unique engineering details, the Brabham BT62 draws on the project team's vast experience to create a car without equal. Crafted from lightweight carbon fibre, the BT62's exterior surface and aggressive aerodynamic package combine to strike the optimal balance between function and form.
Celebrating the company's proud Anglo-Australian roots, the launch took place tonight at Australia House in London, home to the Australian High Commission, set amidst a breath-taking assembly of historic Brabham racing cars and memorabilia evoking memories and charting the remarkable successes of the marque's illustrious past.
Speaking at the unveiling, Managing Director, David Brabham said, "It's with great pride that I honour and continue my father's legacy in revealing the next chapter in the evolving Brabham story. The team we have in place, and the vision it shares, provides a solid platform for Brabham Automotive to execute its long-term business strategy. Our first step to deliver on that strategy is the Brabham BT62, a car truly worthy of carrying the iconic Brabham name."
The Brabham BT62 has been designed and engineered to demand more from its driver. It's a car for those who want to challenge themselves and their limitations to experience driving in its purest form.
Those fortunate enough to own a Brabham BT62 will join the Brabham driver development programme, where their physical ability and determination will be raised to a place where the performance potential of both driver and vehicle can be fully exploited together as one.
With a base price of £1m plus local taxes, and before options, production of the Brabham BT62 will be limited to just seventy cars in recognition of Brabham's 70-year heritage; the first thirty-five of which will celebrate the thirty-five Grand Prix victories won by Brabham over its thirty-year reign in Formula 1.
The Brabham BT62 unveiled on the night was liveried in celebration of Jack Brabham's green and gold BT19 and his historic victory at the 1966 French Formula 1 Grand Prix at Reims, the year in which he made history in becoming the first (and to date only) driver to win a World Championship in a car of his own construction. First deliveries of the Brabham BT62 are expected later this year.
Led by multiple Le Mans winner, David Brabham, Brabham Automotive has been established as a manufacturer of high performance vehicles which challenge and reward the driver in equal measures.
With a long-term plan in place and a phased product development programme already underway, the company's ultimate goal is to see the iconic Brabham name return once again to compete on the race track, with the 24 Hours of Le Mans firmly in its sights.
The Brabham BT62 in more detail
As the next in the line of legendary racers, the Brabham BT62 carries more than just the Brabham name; it shares its DNA.
Working to the same brief as each of the BT-designated vehicles that came before it, David Brabham has led the team to design and develop a car to deliver blistering on-track performance. In producing the BT62, the team has followed the same pragmatic approach that saw Brabham achieve 35 Formula 1 Grand Prix wins and four World Championships.
Charged with overseeing the development of the Brabham BT62, Brabham Automotive's Director of Technology and Engineering, Paul Birch, said, "Created from a blank sheet of paper, our first car takes Brabham into an exciting new era, whilst honouring and upholding the marque's glorious past. Using contemporary materials, processes and technologies, and following a rigorous two-year engineering and development programme, the resulting BT62 is a car that demands total engagement and commitment from its driver, delivering immense reward and satisfaction."
Specification highlights
The Brabham BT62 is a mid-engined track car, with its power driven to the rear wheels via a rear-mounted race-spec transmission.
With a dry weight of just 972kg, the vehicle is incredibly light, and boasts a power to weight ratio of 730ps per tonne.
Power comes from a Brabham 5.4 litre V8 engine which produces 710ps (700bhp, 522kW) and 667 Nm (492 ft/lb) of torque.
With its performance-optimised body and aggressive aerodynamic package, the Brabham BT62 delivers over 1200kg of downforce.
Saving additional weight and with additive performance, brakes are carbon/carbon featuring 6 piston calipers front and rear.
The new Brabham BT62 will be proudly using Michelin racing slick tyres, marking the start of the brand's strategic partnership with Michelin as official tyre supplier and technical partner to Brabham Automotive. Extensively used in testing for the BT62, Brabham Automotive looks forward to working with Michelin to develop tyres to ensure the continued performance of its vehicles to the very highest levels.
Limited production run
Production of the Brabham BT62 will be limited to just seventy cars to celebrate the seventy years since Sir Jack Brabham launched his racing career in Australia in 1948 and the birth of Brabham Automotive in 2018.
The first thirty-five cars will be liveried in tribute to each of Brabham's thirty-five Formula 1 Grand Prix victories.
Owners of the Brabham BT62 will join a tailored driver development and experience programme to enable them to fully exploit the performance potential of this exceptional car. First deliveries are expected later this year.
About Brabham Automotive
The Brabham story began in 1948 when Sir Jack Brabham made his Australian competition debut. Sir Jack went on to become a triple world champion and in 1966 became the first, and still the only, driver to win a Formula 1 World Championship in a car of his own construction.
Now seventy years on, Brabham remains one of the world's most iconic motorsport marques with a lineage of champion racers, engineers and innovators. Spearheaded by David Brabham, Brabham Automotive continues that rich heritage and continues the Brabham story into the 21st century, once again designing and manufacturing cars which defy convention.
Despite only building its first car in 1961, by the mid-1960s Brabham had become the largest manufacturer of single-seat racing cars in the world, and by 1970 had built over five hundred cars. Renowned for its customer service, Brabham had the reputation of providing customers with cars of a standard equal to those used by the works team and provided a high degree of support to its clients, with Jack even assisting with car setup. Brabham Automotive is an automotive company built on the same values that have defined Brabham's winning dynasty from the beginning.
Fearlessly determined and continually pushing limits, Brabham Automotive is borne of a pedigree that has stood the test of time – a racing dynasty like no other – which drives the company and provides its inspiration to succeed.
Staying true to Brabham's proud Anglo-Australian roots, the company will have its US, European and Middle Eastern office in the UK, whilst its Australasian and Asian office will be based in Adelaide, South Australia, where the manufacture of the BT62 will also take place in a 15,000sq. m facility.
Brabham Automotive is at the beginning of a new chapter of car manufacturing, producing the finest high-performance cars for drivers who back themselves, accept the challenge, and take control of their own destiny.
Speaking at the launch, Managing Director, David Brabham said, "I set out twelve years ago to re-establish the iconic Brabham name, determined to see it return to global competition. My father had an incredible determination to succeed and, like him, I've worked tirelessly through this time, drawing on my experience as a racing driver, leader and mentor, never once losing sight of that goal. It's been challenging at times, but what we have achieved is simply staggering. Today's unveiling makes me feel incredibly proud as the Brabham legacy enters a new era."